Sr Technical Superintendent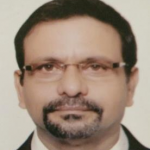 A self-starter perfectionist, with a keen investigative attitude.
An Ex-Chief Engineer with a Career extending 14 years in shipping, of that 10 years of sailing on Tankers and 4 years ashore managing Vessels of various types.
Vendor Management
Dry Dockings / Budgeting
Vessel Take Over / Liaising with ship classification society.
Oil Majors Vetting / PSC / FSC Inspection
PMS System Implementation / Inventory Managemet
CURRENT & PREVIOUS POSITION
Present Position Senior Superintendent
Previously worked as Technical Superintendent with India based Ship Managers.
Sea Service as a Junior Engineer to Chief Engineer on various types of Tankers: Oil / Product / Gas
ORGANIZATIONAL EXPERIENCE
Carried out Vessel Visits / Vessel Take-overs / Dry-docking / Change of Management / Flag Change / Various Third-party Inspections including PSC etc.
A Graduate in Marine Engineering from India's Leading Marine Technical Institute.
"Best All Rounder Cadet" AWARDEE in the Final Year University.
Date of Birth: 05th July, 1981
Languages Spoken/Written: English, Hindi
Nationality: Indian