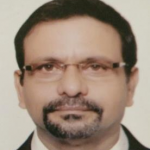 A seasoned Master Mariner with industry Experience spanning 30 years. With 19 years on-board upto a Master and subsequently last 11 years ashore in various positions.
Strong analytical, leadership skills. Energetic, self-motivated team player, strong work ethic, positive attitude, adaptable, proactive, and possess the ability to work effectively while mentoring junior staff in a team, cross-cultural environment and / or independently.
Operating & Maintaining vessels compliant to all applicable Industry regulations & Codes.
Conducting pre-vetting inspections and then preparing the vessels for SIRE approvals.
Monitoring the daily correspondence, movements & the activities of vessels allocated.
Coordinating vessel inspections, compatibility and vetting issues and interface meetings.
Attend to SIRE, Port state, Flag state and annual inspection.
Arranging all types of applicable audits & surveys within window periods.
Assist in planning and implementing dry docking / new ship building / ship repair schedules.
Monitor the vessels performance at the load / discharge port and ensure smooth operations.
CURRENT & PREVIOUS POSITION
Present Position DGM (Marine) – Head of Marine Dept.
Previously worked as Marine Operations & HSEQ Head with Kuala Lumpur based Ship Manager.
– Earlier as Manager (Supt. – Post fixture Operations) – LPG, Crude & Product Oil Tanker operations for Japanese Ship Managers / Owners based from Tokyo.
ORGANIZATIONAL EXPERIENCE
Total professional experience in Shipping Industry – 30 years.
Work experience Ashore – 11 Years.
Work experience at Sea – 19 Years.
B-Tech in Nautical Science from UK Institute
Date of Birth: 27th September, 1971
Languages Spoken/Written: English, Hindi, Punjabi
Nationality: Indian